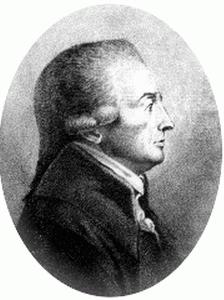 After only a glance at Salomon Maimon's manuscript, Kant deliberated that "Herr Maimon" supersedes all his opponents. He departs from Kant by questioning the validity of synthetic a priori judgments and the conditionality of the possibility of experience.
Maimon's project is a confluence of a Leibnizian dogmatist strain that grounds transcendental philosophy in a principle of determinability, and a tinge of empirical skepticism that views synthetic propositions to be merely subjective. Maimon's resolve is to operate under a genetic theory of "differentials," which generate the ideas of the understanding. Our sensibility has a limited view of these ideas.
We share something with an infinite understanding, but in a confused way. If there can be such a stance of transcendental objectivity with regard to the immanent status of the real object it must consider the genesis of knowledge, not the mere conditions.
Maimon's influence on idealism alone is resolute, but his work is largely ignored. The renowned Fichte would later write to Reinhold, "I firmly believe that he has completely overturned the entire Kantian philosophy… No one noticed what he had done; they had looked down on him
from their heights. I believe that future centuries will mock us bitterly." Maimon's depth is his inversion results in a transcendental realism and an empirical idealism.
Autor: Cody Staton