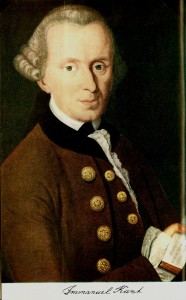 Based on Kant's Critique of Judgment, this thesis explores the transition from the realm of nature to the realm of freedom by means of aesthetic reflective judgments, namely judgments of the beautiful and judgments of the sublime.
First, I will examine judgments of the beautiful, which give the substrate of nature determinability with regard to empirical particular laws, i.e., conceive these laws as purposive and receptive of determinate principles.
Second, I will discuss judgments of the sublime, which provide the same basis with determination by practical moral principles.
Third, I will investigate the connection between the beautiful and the moral good. In view of an analogy between the pleasure of taste and that of moral feeling, we should take an intellectual interest in natural beauty.
In the dialectic of the principle of taste, we further ascertain the foundation of this analogy on the basis of taste, which is then reconciled with the basis of nature and that of freedom. Hence we are justified to claim the beautiful as the symbol of the moral good.
Autor: Weija Wang.