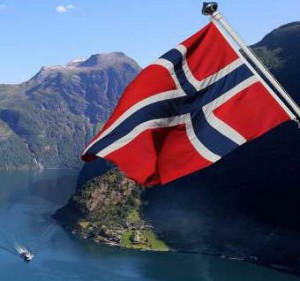 Norway is considered a country of contrasts because of its cold climate and warm hospitality of its citizens. Norwegians are quite friendly even though they are often humble when it comes to communication. Instead of living in small flats they prefer to live in their own houses with many rooms, photo on the walls and candles, because they like comfort in everything. Guests for inhabitants of this country is always a good news.
They love long conversations and have a great sense of humor, although with that being said, they always behave themselves carefully and frostily with strangers. These people treat others with respect, take good care of elder people and are polite to each other.
Restraint – one of the characteristics of the Norwegians. They restrained in the manifestation of feelings in the statements, and that is very interesting food. In Norway there is no cult of gourmet food, strict table manners, long conversations during meals. In this country eat just to be satisfied; all pragmatic and concrete. In addition, there will not be a reason to smile you with courtesy, this is only possible on a specific subject.
Norwegians are very kind to nature. A sincere respect for the natural beauty is laid in childhood. For Norwegian nature is the real temple where litter is simply impossible and cause damage. Norwegians with great pleasure to spend their free time in nature and are always happy to invite your friends, business partners, fishing, picnic or ski trip
Norwegians are not peculiar bursts of activity inherent in them daily rest, phlegm and restraint. This honest, pragmatic, sensible and confident in their abilities people care related to nature. Restraint in conversation and silence Norwegians are highly valued as opposed to extravagance and talkativeness.
If you take into account business etiquette, we can say that in business Norwegians honest and consistent. A reliable partner, always carry out their obligations and expect the same from others. Norwegians treat with suspicion those who do not know. However, they can take the risk and start a business relationship, if a potential partner uses a total confidence. Norwegians do not like ambiguity and secrecy in the conduct of business negotiations. If the Norwegians do not see openness and directness, they avoid further communication. For it is their business style is often called limited and inflexible.
Another important factor is – honesty. Corruption in this country is practically no.
Norway official appeal. They can call people by name. As in Norwegian society is accepted restrain their emotions, the Norwegian unlikely to break out joyfully to meet you. The first communion Norwegian will treat you skeptical. But if you can make friends, it is for many years.
Norwegians love to joke, have fun and respect those who have a good sense of humor.
Norwegians are great patriots. Therefore, you should study the history, traditions and customs of the country and often pronounce words of praise addressed to nature, people and achievements of Norway. But remember, your statements should not be flattery and hypocrisy notes, as well as in Norway in respect modesty and restraint in emotions.
In Norway live very neat and tidy people. They decided not to throw garbage on the street, violate the traffic rules even at 4 am. There really are fighting for the environment and clean cities; alcohol consumption and smoking in public places is prohibited. Norway – a country of harsh climatic conditions, so local residents can safely be called courageous people come to rely on themselves and live in harmony with nature. Faulty Norway is considered bad form. Even the royal family follows the order and can also get a fine or be arrested for breaking the rules.
Norway is very much appreciated family. If marriage is for life. Family – a common cause where everyone has to make efforts for its development. Family comes first, this can be sure when everyone gathers for family supper. By raising children here are very serious, parents are always trying to communicate with children on equal terms, not to be too harsh with them; older children care for younger and care for them. If a woman is pregnant, it is its natural state.
In support of her husband of nine months is necessary, moreover, even the Pope goes on maternity leave 4 weeks. Tabu as to what age a child can be shown there. Friends of the family, colleagues can visit right after the birth of a baby. Also not taken to hide the pregnancy of women.
In my opinion, it is important to draw the attention of the reader to the traditional holidays of this country as well as the way they celebrate and respect these holidays. When it comes to celebration days, people here are not expected to go to work as instead they celebrate on streets in their traditional costumes.
On the other hand, New Year is not considered a big holiday as much as it is in Ukraine. In other words, it is not as important as it is for us in Ukraine, although it is a great occasion for Norwegians to go to a party and have a great time. However, Christmas is a truly family holiday here, for which Norwegians start preparing for a month in advance. Full of holiday spirit, kids make all sorts of presents and decorations. Normally, the top of a Christmas tree is complimented with a Norwegian flag.
A happy mom in February, after the second Sunday of the month, the day of the mother, they receive gifts and greetings from their children.
Spring begins with holiday decorations in the form of bunnies and eggs that symbolize Easter holiday and, in fact, meeting the warm season.
The main and most important holiday should be considered as Constitution Day – May 17, the day when Norway became independent. Norwegian respect people coming to celebrate this event, wear costumes, decorate the house with flowers and ribbons with the colors of the national flag, arrange a family breakfast and view greeting royal family. Well, after that city residents gather at the center to continue large-scale festivities.
In conclusion, I would like to add that not only Norway is distinctive with its traditions, ethical rules and law abiding citizens, but also incredible nature, mountain sightseeing's, wide streets and welcoming houses. And this is what Norway is about – full of charm that will inspire every tourist.