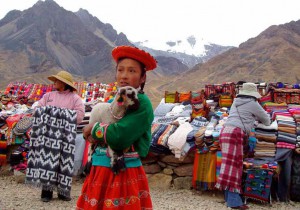 In South America, there are the country, named Peru, which is situated on the Pacific coast. Lima – is the capital of that beautiful country. Exactly this country is considered as unique, and rich with secrets which charming historians, anthropologists and other scientists. By the way, in areas with an excessive amount remote areas still live natives that preserve their initial way of existence.
Today Peru is a country with rich ethnic composition and varied traditions. As the country has a long history of ancient Indian tribes large number of celebrations, traditions and ethnic characteristics has its origins in ancient times. Investigating that origin's we could understand uniqueness of the authenticity of the Peruvian people. One of the main attributes of Peru, is the national language. Native language for them is Quechua Peruvians and Aymara. But considering geographical position of the Peru, and the influence of neighboring countries, many Indians began to speak Spanish. This country is famous by their traditions, holidays and rituals. Also, there are some main rules of etiquette, and their mentality.
First one, is about business meetings. At those meetings suit in dark colors and clean shoes are required. Also you need to agreed about the time of the meeting in advance. Despite the fact, that locals are often lating, on the meeting you need to come in time. For establishing good relations, business cards in two languages, exactly in English and Spanish, will be useful for you. Communication ability is crucial in guiding, by the way, woman and man are one the one business levels.
Peruvian businessmen are very conservative, formal and very proud of their Incas or Spanish ancestors, also you need to keep in mind that the Peruvian businessman will expecting from you some praises about beauty of his native city. Also there are tradition about joint lunches. For Peruvians drinking is a neutral thing, but you shouldn't be abused. Also tourists need to keep in mind, that discussing internal politics offends the locals. Peruvians are respecting the opinion of seniors, thought not always follow it. With regard to visitors, locals treated kindly and fairy friendly, also they are in proud to give you an assist if you in need, for Peruvians friendly behavior included if the list of mandatory rules of etiquette.
Also citizens of Peru are endowed with extremely strong patriotic feelings are they are very proud of their ancient ancestors. Peruvians can't stand negative feedbacking about their native country, but by themselves they can talk about it for an hours. Citizens of Lima are expecting of hearing praises about beauty of the city. It is important to remember, that you need to be behaving naturally with new friends, but it is not worth to switch on "you". The optimal form of addressing is "senor", "lady" or the second name of the person. Tourists should really pay attention on the fact, that they can't take photos of representatives of Indian peoples on the street without their permission.
Also locals are often refusing to be photographed. There are allowed photographing in churches, but with no flash. If you want to make some gift, you don't make it too expensive, also it need to be practical, flowers are giving rarely, only on anniversaries. They have standard table manners as in Europe, senior usually takes place at the head of the table. You should be cautious in food choosing, avoiding dishes with raw food such as fish. Peruvians are paying a lot of attention celebrating Catholic holidays, such as Christmas Eve.
At that day, natives starting to prepare to meet this holiday. Peruvians families usually spend Christmas Eve in church, they ale in love of singing songs and playing pieces. Bread with fruits – is an traditional dish which is serves by the women. Also there are quite popular annual fair where you can buy different pictures, frescoes and goods made with stones and other materials directly related to the Christmas Eve and the scene of Jesus birth. Peruvians are taking their places at home in the evening at the festive table and giving gifts to each other. Traditionally there are turkey of chicken on the table, also among the most popular drinks is a hot chocolate.
Christmas. Like everywhere in the world, Christmas in Peru is considered special. This holiday here is rich by colorful Catholic traditions with some traditions came from old Andean culture. In the evening families gather together to celebrate this huge holiday. Traditionally on the Christmas table you may see the turkey, but families which can't afford this dish, serving sweet bread and dried fruits. Because of that holiday, many churches organizing charity dinner for those who are in need. It is treating with hot chocolate and sweets. Children are traditionally taking gifts from their families. At Christmas Eve, it isn't advisable to walk to the guests without gifts, Peruvians consider that as a silly tone, but it is allowed to be late. As at the whole Europe, indispensable is Christmas tree. Exactly there, children founding their gifts in the morning. Also there can be Santa Claus, coming to the children, though his clothes are pretty hot, because at this time in Peru summer is starting.
Easter. Easter celebrating in Peru starts with entry of Jesus riding on a donkey, then through all the streets begins processions, whose members are bearing the image of the Virgin Mary and St. John, and people who goes ahead, sprinkle the road with white rose petals. The procession moves to the main square and stops in front of Christ. When evening comes, men and women, dressed in official dark clothes become in rows, holding a white candle. Exactly that light is enlightens the dark streets of the city. Peruvians are praying like that whole night. After that night of grief, there are festive mood, around the locals, as Sunday came, Christ is risen, and city again begin to go public processions.
Virgen de Chappi. Santuario de la Virgen de Chappi is a place of pilgrimage is the centre for a huge count of Catholics. From different countries they are followed here, from Peru, Chile, and also Argentina. Every year thousands of pilgrims are crossing desert in order to worship to the image of the Virgin Mary. Believers are ready to cross 45 kilometers to reach the abandoned city, which is located on 2.420 meters above the sea. Also before the first stop, pilgrims gather stones of different sizes, which they are leaving later at Tres Krues near the road as a symbol of their sins and fatigue. They say, that leaving the stone, you leaves your sins.
All Saints day. This day is dedicated to the memory of the victims Peruvians. There are usually held solemn locals, walking in the cemetery. Locals are caring flowers and food to share symbolically with the souls of their dead relatives. They say, that they need to be there till dawn on November 2. Also there is another tradition about the Peruvians, who have buried their children. When such people meet a child on the street, they give her a slice of sweet potato of coconut, wrapped in a colorful wrapper. Such sweets are called "Angels". There are many different religious holidays besides these, also they are making a lot of different carnival fests, through the country.
Quite interesting holiday in Peru is a "Pisco Sur" day. Pisco Sur is a cocktail that is prepared with grape vodka. It is one of the most popular in Peru, by the way. Officially holiday was declared in 2004. At that day, held festivities and free tasting of that drink. Creole music are taking place too. Mandatory on this day are competitions for the best cocktails. Peru is among the most visited countries in Latin America, because here combines modern traditions with ancient history, preserved original celebrations and ceremonies and here you can see true ethnic Indian attire.