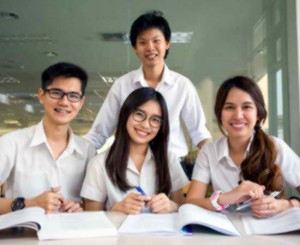 It is widely acknowledged that Australia is a major destination for international education, totaling $9.5b revenue in 2006 (Marginson, 2006). 78% of international students in Australia are from Asia (Australian, 2005). A third of Australia's 240,000 international students are located offshore (Marginson, 2006). As more and more international students pursue international education in Australia, there is a need to investigate how these Asian international students perceive the universities' identities made on the universities' websites, which have become dominant sources of information direct from the universities.
This paper is to investigate Asian prospective international students' perceptions of Australian higher education system online. With the characteristic of such 'disembodied environment' as the Internet (Mann and Stewart, 2000, p. 210), it is argued that the Internet may help identity to emerge. Pauwels (2005, pp. 605-606) contends that "identity construction, impression management and conscious self-presentation are common practice in every communicative situation".
The paper follows Pauwels (2005) suggestion that further studies are needed to fill the gap and attempts to examine the issues from the world of audiences of websites, ie. the international students, a point that has been missed in much of the literature on the international student experience in Australia. Using Gee (1999, 2005) model of discourse analysis techniques and Bonny Norton's (2000) concept of 'imagined communities', I analyze the interview transcripts of 50 first year Asian international students who are currently studying in universities in Victoria, Australia.
Students were group interviewed and asked to work individually or in group to discuss their perceptions of Australian higher education identity on the AEI website (Australian Education International) as well as those of three universities in the state of Victoria, Australia, which represent three main groups of Australian universities: the Group of Eight, Australian Technology Network of Universities, and the Innovative Research Universities. The discussion reveals that Asian international students, a batch of increasingly technology savvy groups, invest their time to 'shop' and construct virtual experience of their prospective educational destinations.
The analysis also highlights the Australian higher education online identity associating with opportunities and challenges for prospective students. It also points out three main types of Australian universities' virtual identities. The study provides implications for Australian higher education as a system, its universities and regional counterparts at times when students go online.
Created by NGUYEN Chinh Ba