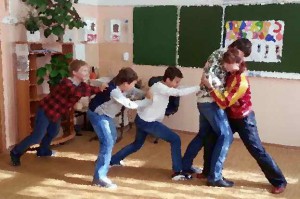 Despite the fact that there are lots of discussions about the impact of school nowadays, it is hard to deny the importance of this social institute. The foundation of each school is a huge variety of pupils, their parents, and teachers, connected with formal and informal relationships. That is why a value conflicts become one of the most widespread kind of conflicts, and, at the same time, one of the most difficult to work with.
Due to western conflict resolution approach, there is one of the most effective techniques, called peer- topeer. Peer mediation is a method of managing conflict in schools in which children are trained to help protagonists in conflict discuss their needs and feelings and to come to peaceful solutions for their differences.
This method teaches children how to behave in controversial life situations, how to take responsibility for their acts and how to deal with the feeling of guilty. Which is more, peer mediation has benefits for teachers who can spend their time on educational process instead of control the discipline of students. Russian analogue of school mediation is completely different from the previous one.
The process of russian mediation's development hasn't done yet, herewith it coasts some troubles with its realization in our society. School reconciliation service in Russia is oriented on improving communication skills, creating a dialogue between all subjects of educational system.
Leading principles of this school service are not only the ones we know from Russian Saint-Petersburg School of Mediation such as the neutrality of mediator and the voluntary of subjects, but also some brand new — taking the blame and full responsibility of subjects. Educational ethics generates some crucial controllers of everyday students' behavior which are vital values of each school.
Within the framework of this essay, the next values can be named: an authority of teachers, hierarchy of school relations and pupils' solidarity what makes it almost impossible to create an objective point of view in context of this conflict situation. From the above, it can be concluded that there are two most significant moments in popularizing of school mediation in Russia.
First of all, school management should understand the necessarity of the correct conflict resolutions. Secondly, concrete ways of the inception of school mediation are supposed to be organized step-by-step, according to requirements of ethics norms and values of Russian reality.
Created by Beskrovnaya Anastasia, Sokolova Alina.