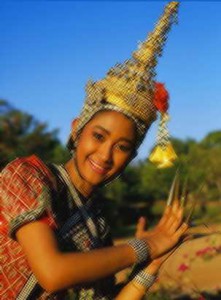 Among all travel destinations, Thailand is the one of the most popular country with resorts. This is cozy place fool of light and warm, where the kindness of native inhabitants flies in the air all the time. Nice climate, outstanding landscapes, charming nature, fantastic rain forests, waterfalls, mountain trail ways, unique architecture and beautiful sea beaches. But these things is not the only visiting card of this amazing country?
In this case, we should talk about ethical rules of Thailand life, which fascinate and astonish us so much.
Thailand has special atmosphere of happiness and friendship. Local citizens are always sincere, open and smiling. It seems that they strive to perfection in everything. They appreciate morality, loyalty to traditions and religiousness. In this country, a marriage is sacred and family relations are closed to surrounding.
It is important to stress out that Thais love emotional communication, open, sincere and calm dialogs, there exists special ethic ant technique of communication. It is very important to be polite with Thai, especially, greeting "Sawasdee" (Hello) that always goes with traditional gesture "Vai". The length of this gesture depends on the age and social status of interlocutor.
Generally, the life philosophy of Thailand is totally different from other countries. Thailand people, by the nature are not hardworking. The majority of them prefer time idling and treat material welfare from job indifferently.
For more developed analysis, let`s look through three main Thai philosophic and ethnic thoughts, these are "sanuk", "sabai" and "senei". "Sanuk" means pleasure, "sabai' means cozy, pleasant or comfortable. It is not possible to translate these words, because they describe Thai worldview, so they cannot be translated to other languages. When people say the word "sabai" twice, they express the highest level of pleasure. Sabai-sabai and everything is perfect, there are no problems.
"Senei" is the one of the most important words in Thai language, it is used for differentiation of beautiful and excellent. Thai people are aesthetes from head to foot and form their opinion about people by their look. Often, appearance is more important than function or inner world of person or thing. Generally speaking, for the past years, the cult of beauty has overcome all parts of the country.
Consequently, we may say that Thai people are hedonists, seeking for happiness, they try to make their lives as good as possible. Their understanding of death impresses everyone. They think that deaf is "sabai-sabai", which means complete reveal from suffering. The roots of such believes come from teachings of Buddha, who thought that life like the path of pain and only nirvana helps to get through. If it is very hard to reach nirvana, so the death is a small break before reborn of soul in new body. After that person will continue new path of suffering.
It was great shock and disappointment to me that despite openness and pureness of thoughts, deeds and feelings in Thailand, sexism is well spread in the country. At this point, I am not talking about social life, I am talking about serious punishment for the soul, it is when you reborn into… woman!!!
I would like to mention that Thailand has 32 700 Buddhist temples, where 370 000 monks live. In accordance with rules of Buddhism, the best way to make the biggest contributions is the life in a monastery. The karma depends on contributions of person and reborn of soul depends on the karma.
In conclusion, I want to say that Thailand took a place of spiritual center in the region. Especially, traditions, religion and ethics highlight this country among others.