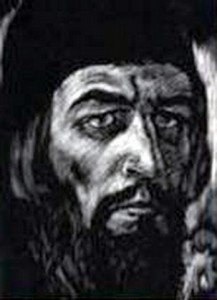 A talented patriot preacher, the fame of which was spread on the lands of Ukraine. Master analogy, winner of the literary style and imagery, emotion and marked impulsivity. The speaker, whose enthusiasm combined with skepticism and irony. The figure, which is fraught inspiration "true prophet". It's not all great ascetic merit our history John Vyshensky.
Uncompromising Vishensky was firmly convinced that only the Orthodox faith will save Ukraine, and all the newfound European science and the theory of "demonic a dream." Can we agree with this opinion patriotic man who was perhaps blinded by patriotic aim too high? The critical limit of Ivan Vyshensky views can not quite convince us of the desirability of this opinion, the main thing in our lives – a development. The quest for a comprehensive worldview and vision of the enormous vastness of reality.
Can not living in only one doctrine is not interested in other openings universe. Use the wealth of achievements in his life for the better and for its improvement – is like taking food from the Garden of Eden which is next to you. You do not need to look for and to give strength to create what anything should only use already created. How can we ignore this?
And indeed we should not forget that you are Ukrainian. Enriching your life good material and information not affect the state of your soul which is always a spark emotions and pride for their homeland, people, language and traditions. Perhaps it was this truth experiences Vyshensky. He was not sure whether we will preserve the purity and virginity of our religion in its original form.
Ivan Vyshensky appreciated by his contemporaries as "gold book". Contains the aspirations of the people for freedom, preserving its content humanistic democratic equality of all people. In his pursuit of equality between men and Vishensky endured desperate and can not leave it unattended.
Without support in his struggle, he locked himself in a cave by taking a vow of silence. John continued his arguments about the fair resettlement cases on home soil. From the cave repeatedly raised the basket in which lay the manuscript with a message to those who are still able to hear it and understand it. It should be noted that such a sacrifice worthy of respect and recognition. Not every one of us can make a waiver of comfortable and carefree life to society. Perhaps this is we lack is to build genuine, independent and rebellious nation that would give anyone the rebuff.
Vishensky explains the essence of God as the foundation of all things, countless minds deranged truth. His awareness of God presented to us not only the creator of the world, all of life, but the true figure of goodness, justice, wisdom, honesty and principles that encourage people to her earthly life was bathroom in order to achieve peace immortality. Unauthorized basis for Vyshensky God can not show us his love for the Creator. The vision of God not as something obscure and unconscious, but as a mentor to righteous living faith and a strong arm, which acts as support in any situation.
Path to God in the minds of John Vyshensky, mystical, it – self through purification and enlightenment thought. It is in the self-purification and enlightenment spent the last days of his life John. By example proving us that in life you can know much more not just taking from it what is necessary, but also giving himself a donation. We very rarely have thought to live for someone else, but to their own detriment.
To make someone happy not knowing their own happiness. Maybe you should think about how to get rid of their own self-centeredness egoism, and yet providence and pay careful attention to our surrounding public. For, whether we live this life only to meet their needs? If it were so, then not lived so many people on the planet Earth. Not born children and would not have been the continuation of the human race. Usually, only people whose purpose is enrichment by making all the money in the world will not know happiness parental and family. For the same set themselves an impossible goal.
Everyone has to understand that God created us for mission and social goals. To multiply human race and life on Earth is not extinguished. In order for your life, we realized its primary mission – birthing and but still reached the spiritual immortality by means everlasting memory in the hearts of those who will never forget about our existence in being or boundless space incorporeal being.
John Vyshensky philosophical position combined with the problem of the Orthodox, national and religious oppression of the people of Ukraine in terms of the Commonwealth. In the knowledge of John should be noted categorical, perfectionism, refusal to admit the possibility of partial association contrary. Is it bad union of opposites? No wonder it is believed that opposites attract. Perhaps it is the union of two opposites against whom spoke Vishensky was the key to salvation. But it should be noted that the association is not by replacing one another, and finding something mediocre between the two. Togo to suit both parties. For categorical opinion which serves Ivan Vishensky course that will lead to discord between the opponents and the collapse of one of them.
John did Vishensky emphasis on the importance of mental effectiveness lay in explaining all that the human mind works. Mental activity contains an element of rational, bringing consistency in thought and elevating the role of reason in knowledge. And indeed all human knowledge a massive part of their public depends on activities under the influence of the rational element can make a big step towards a positive and prosperous development of personality. Her knowledge of the true aspirations in life and ways to implement the entire plan.
Landmarks in the creative domain Vyshensky John takes a philosophical dialogue " Impersonation of the devil-Satan " ("Exposing the devil-swedavia "). This author's confession, restoration and creative life path spacing. In this dialogue laid the foundation of the Gospel story of Jesus Christ seduction devil in the desert. In the narrative highlights the formidable faith in God despite any worldly wealth. That creates a thought in my head that opening shower riches of gold and money if we admit the devil in it, and how to live faithfully enriched spiritually and not wanting power over the world is saving his soul giving it the salvation of God.
In philosophical dialogue highlighted Vishensky own internal struggle that took place for social change from the active to the ascetic life. Realizing its transience, volatility and monstrosity.
The world offers us many temptations. Leave them sometimes impossible and why? Only to be understood that for every wrong step and action that will harm the neighbor comes the inevitable retribution. Sometimes we do not think about it. Drives away bad thoughts from yourself and force yourself to forget about responsibility. But retribution for what he did not catch on coming. If you do not then your children or great-grandchildren will have to pay for your sins. So for all the time. Thinking about their actions before they move to their implementation. Because, sometimes spiritual enrichment – the discovery of novel piggy bank, which is much better illusory and ubiquitous fever in pursuit of power over the world.