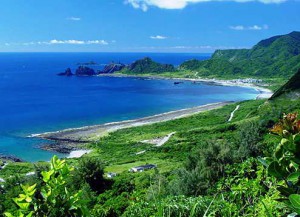 At the birth pangs of delivering a democratic society and at the crossroad of transforming "the island's de facto independence into de jure statehood" (Jonathan Manthorpe, Forbidden Nation 258), Taiwan is now a "global political hot spot" whose national and ethnic identities have "unwelcome implications for the PRC's national identity and ethnic politics" (Melissa J. Brown, Is Taiwan Chinese? 2).
After thirteen unsuccessful attempts to gain admission to the United Nations since 1993, Taiwan and its people have been urged by the diplomatic impasse to seek international recognition through other means. By closely examining a 10-minute official tourist advertising of Taiwan, "Ilha Formosa" (2005, European and American version), this paper proposes that what Taiwan tries to sell in the commercial is not only the old-time tourist attractions but also an emergent national identity. "Ilha Formosa" is the former name of Taiwan.
In 1544, when the first Western ship passed by and "discovered" the island, a Dutch navigator on a Portuguese ship exclaimed "Ilha Formosa" (the beautiful island) and thus named the island for the next four centuries. Highlighting the colonial legacy, the commercial further turns various colonial imprints on the island into tourist attractions: The Alishan Railroad (originally built by Japanese colonizers to transport valuable lumber) and the Chiang Kai-shek Memorial Hall (constructed by the KMT government to celebrate the spirit of a "national hero").
The colonial imprints now become local attractions and "Taiwanese." Drawing on Frantz Fanon's studies of the correlations between political struggle and national culture, the paper mainly explores the following questions: In the political struggle for sovereignty and nationhood, how does Taiwan represent its national culture to the Western eyes and, most importantly, differentiate it from the overarching "Chinese culture"? How does Taiwan reconstruct its national identity through the mass media? Or, in Rey Chow's words, what is Taiwan's "to-be-looked-at-ness"—"the visuality that once defined the 'object' status of the ethnographized culture and that now become a predominant aspect of that culture's self-representation" (Primitive Passions 180)?
By means of juxtaposing the images of puppets and temples with that of high-tech products and skyscrapers, the commercial promotes the idea that Taiwanese people remember their past and live in the present. They cherish both their tradition and modernity.
Consequently, the paper argues that the tourist advertising should be read as Taiwan's another attempt to put itself back into the global history and the world map as a distinct nation and a competent member of the international communities.
Created by WANG Su-ching