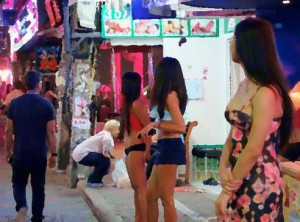 In the past decade Taiwan has seen a booming business in brokering foreign brides from Southeast Asia, mainly Vietnam, and China to Taiwanese men. A relatively recent development which began in 2002, is the importation of brides from Eastern Europe, mainly from Ukraine and Russia.
This new direction challenged the stereotypical images of transnational matchmaking marriages in Taiwan society. For example, Eastern European women are never represented as poor or as opportunists who use marriage as a strategy for a better life. Rather, they are very often promoted for their sexy appearance, high educational level, and language skills that are believed to be helpful in improving the quality of Taiwanese population of the next generation.
Moreover, they are thought to be the target for upper-middle class men, and are not expected to play the traditional role of housewife as Asian wives are. Using a feminist approach, in this paper I will examine the interplay of gender, class and race in the transnational marriage market in Taiwan.
Main questions will be asked following the leads: (1) how foreign women's bodies are racialized, sexualized and commodified according to their geographic origins; (2) how economic relations become intertwined with ideas of romantic love embodied in the business of transnational brokering marriage in the context of consumer capitalism; and (3) how men and women's motivations and desires for transnational marriages are triggered economically and non-economically.
Methods of this study include 1) participant observation in the process of matchmaking by taking part in marriage tours arranged by marriage agencies to Vietnam, China, and Ukraine; 2) text Analysis, such as advertisements on websites of marriage agencies, publications by female immigrant associations and women's advocates, official documents, news and editorials in the newspapers and magazines and on TV; and 3) interviews, including women's advocates, government officials, males and females seeking spouses through brokering, and marriage brokering companies.
This study will use anthropological theories such as women's agency in migration, the relationship among romantic love, race/ethnicity, and class, and commodification of marriages and women, to discuss the current marriage migration in Asia. It will provide a complementary perspective to current research that focuses on the flow from Asia to the Western world. The ways in which these dynamics play out in Taiwan will help us challenge widely held assumptions that only socio-economically marginalized men seek foreign brides and that women in the transnational marriage markets are vulnerable to human trafficking.
Results of this study will: first, provide voices of foreign brides that were frequently omitted in earlier research; second, provide evidence against the assumption that only lower-class men would seek foreign brides; and last, serve to break the stereotypes of immigrants in hope of reducing potential racial conflicts in current Taiwan.
Created by TSENG Hsun-Hui