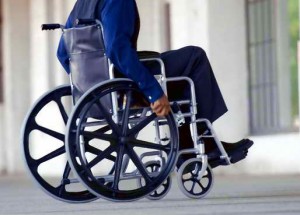 This topic is very important, because after accident at the Chernobyl there are many young people with mental problems, musculoskeletal system development problems, and mentally retarded people. Negligence of doctors and women during pregnancy and childbirth should not be deleted,therefore topic "The moral aspects of inferiority and disability of human" is quite popular, despite the time.
You can't stay out while there is multifaceted world with his raged life and people are overcome with emotion people's .Attitude and perception to the world depend on them. People by themselves set the tone for their life and decide how the surrounding will treat them. This principle works with all people, regardless of age, sex, nationality, race, social status, social position, disability, inferiority and so on.
Inferiority is a set of certain negative perceptions of themselves infringing person to others. Inferiority complex, according to Adler, is in everyone and it increases with the birth of the next child in the family. But few people know and can explain if it is real and what it represents. The main task mission of parents, psychologists, teachers, educators is to give the child understanding how he or she is valuable, unique and individual.
Disabled person is a person with persistent disorder of body functions, caused by disease, trauma damage, or congenital defects that lead to disability, the need for social care and protection, according to the law of Ukraine (Order on Approval of Instruction on establishing of disability groups).
Often one person could have these two phenomenon, but they are trying to compensate their inferiority by something else.
As noted above, it all depends on the people and their attitude to themselves, to the world, to the people around her, because not all disabled people have an inferiority complex and not all people with an inferiority complex are handicapped. In general, these special people can be divided in two groups:
• Those who have an inferiority and disability;
• Disabled persons who do not feel realize their inferiority and consider themselves as valuable members of society.
Disabled persons with a pronounced inferiority complex have excessive demands to the society in which they live. Based on the experiences of people who work with disabled people, we can say that disabled people are slightly arrogant, believe that society and healthy people owe them, they are slightly offended at healthy, think that society treat them not fair, slightly unrefined and insolent. This attitude demonstrates that by such behavior disabled people want to compensate their disability and inferiority.
On the other hand, there are completely opposite disabled people: they are positive, put themselves on the same level with healthy people, do not feel inferior, do not have excessive demands on society.
In most cases, parents are guilty in disability and inferiority: because of time constraints, because of non-compliance with the advice of a doctor during pregnancy. There are many reasons so it is no need to stop on that.
There are so many interesting, new and simply unknown to us in life, so do not dwell on this, because there are so many people who despite their disability have reached certain heights in life and even in sports and dance.
A striking example is the Paralympics sportsmen – people with disabilities who take part in contests, Olympiads and various activities. Especially for those special people even the Paralympic Games were created, which have no limitations: people with problems of the musculoskeletal system, mentally retarded, with visual impairments, paralyzed can participate and this is not the whole list. People with disabilities from all over Ukraine are involved in this type of activity and win prizes in international competitions. "In 2002 Ukrainian athletes with disabilities won 26 cups in Europe and the world, including 10 gold, 7 silver and 9 bronze (Sports newspaper)."
Very popular personality in our time is Nick Vujicic, who suffers Phocomelia, a rare disorder characterized is typical by the absence of legs and arms, he has only one foot. Despite this, he lives a full life, he is a wonderful speaker, philanthropist, writer and singer. The peculiarity of Nick forced him to look at the world differently and overestimate human capacity. Now man travels the world and gives people with similar syndrome or disabilities lectures about the features of disabled and that they do not distinguish from healthy, normal people.
Vujicic living with this challenging syndrome achieved considerable success in life: from career to the family life. During his life, Nick wrote several motivational books, several films with his participation about his life came out, he has a wife and a son.
Considering the modern society, we can say that modern people and modern youth are quite tolerant and understanding towards the disabled. There are so many cases when healthy people get married, communicate sincerely and help disabled because attitude to these special people is good and favorable for their development. Certainly, there are those whose attitude to disabled is severe, but we aim to develop the country not only in the economic and political aspects, but also in the moral.
In summary, it should be noted that now there is rapid development of scientific and technical sphere, therefore some of the problems of these special people can be solved by engineering and scientific achievements. In general, a lot depends on the person. "Disabled person" is neither verdict nor a way of life!
"Our worst critic is we ourselves" George Davydyuk.