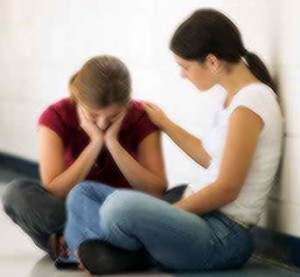 It is not difficult to notice that respect is the basis of strong communication relationship. You can know a person who is far away from you, but you don't want to start any kind of relationship with him or her. In general, the aim of communication is not only to respect and appreciate the person we are talking with, but also to get into her problems and help find some solutions without any benefit for yourself. The moral of the paradigm of such penetration into the problems of others is compassion and empathy. 
Generally the "compassion" prototype is the ability to react to any changes of the person we love, in other words, "to get infected" with her inner feeling. It is not very easy to find a specific explanation for this kind of feeling. For example, there are signals in the animal world that they send to each other, so it can be a cry for help or warning of danger.
So in such a way animals cohabit and help their species on the instinctive level. This shows us that there is sympathy and empathy even at a lower level. As for the wildlife, even in spite of haughty isolation, which is typical for modern consciousness, the science, that studies the behavior and development of animals, gives us very interesting data, that our "smaller brothers" have developed analogs of good and bad feelings like the humans have. Instinctive principles of animal behavior play especially important role not only for the conservation of a species, but also at the level of personal relations.
There is a difference between human and animal feelings . Human feeling is a complex mental phenomenon by its nature, it has some important spiritual and meaningful content which is formed within the development of human culture. The human sense of empathy reflects the complexity and diversity of his inner world. People can express their sympathy in a distant way, mostly because of politeness, but not experiencing and feeling all the situation .
Indeed, to sympathize other people means to share their joy or sadness, passion or suffering, be happy for the success or worry when they experience pain or failure. There is quite superficial though reasonable view, that a true friend is one who can rejoice at your successes and achievements. For selfish nature rejoice often seems like something more difficult and less accessible than sympathy and compassion. However, there are all the reasons to say that compassion is deeper in his deepening into the human being.
Arthur Schopenhauer once said "Any notion of happiness is negative and suffering is positive." Many people did not understand this statement and censured it. Well, but if to get it sorted out, even the Bible says that we have to work in the sweat of the face, in other words "to suffer" in order to gain something and to see the result of our work. It is impossible to skip this suffering, so compassion is still important for everyone who is capable of a serious relations to the life and to the world in general.
Fedir Dostoyevskyy mentioned in his novel "The Idiot" that "compassion is the most important and the only law of human being of all mankind. But unfortunately, a lot of people still tempering the communist regime, which taught that "pity humiliates," so on this basis the ethics of strong and unbreakable builder of a new society, who had to be strict, invulnerable, devoted to the idea was built. Although the years have passed since that time, but the turn to mercy and compassion did not happen. More and more people show indifference and cruelty to the orphans, the sick, the disabled.
Against this background it becomes especially important to maintain and develop such features as condolence, determination, compassion despite all the external influences.
The human is a subject of moral relations, so "his own suffering" and "suffering of another" get different statuses. And if the first is subject of certain meaningfulness, the second becomes insensible and useless in most cases. But is this difference the only available falsity of our perception, which can not be taken seriously?
Every human has a kind of difficulties experience he has overcome, it's such an experience that contributes to the improvement of a person. Speaking about the experience of sympathy and compassion, it is important to emphasize on such a kind of human feeling as compassion. Сompassion, as well as modesty, abashment and obedience belongs to the very subtle modalities in life, which are especially difficult to think about.
We can feel pity for ourselves or for others. If the other person is going through the same situation we have already experienced, we compassionate this person in a special way and this problem seems to be really important, so such suffering automatically becomes "our own suffering".
We know, that to cause compassion intentionally is as difficult as to get rid of it. Furthermore, it is difficult even to think about it. Each person has her own experience of regret.
Making the conclusion, I want to say that compassion and empathy are the principles that do not explain the meaning of a moral preconditions of communication in general. If respect still does not create communication, a sense of empathy creates all the conditions for a relationship and establishes the subjects in self-denial for the sake of the other person. So living in a society without relationship with other people just limits the person, because she fails to achieve what she could in case of being the active member of the social links.