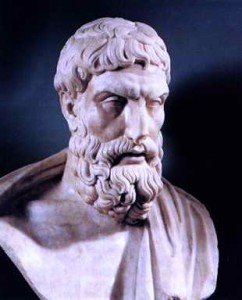 For start, it should be noted that the topic given to me was very interesting, it even further disclosure caused me pleasure.
Need your attention on the fact that the philosophical principles of Epicurus strangely coincide with some philosophical tenets of Eastern culture, such as Zen of Buddhists or arrogant form of Confucianism.
In my understanding, there are some similar with a modern philosophy of nihilism. The first tag of Tetrapharmakos (four principle of Epicurus doctrine), "Don't fear god ", significantly origins of one of the slogans of ultra-modern nihilism "No gods, no masters." Of course, Epicureanism exclusion from the gods in no way connected with the non-recognition of the ninth, but if human is a creature of the gods, equal in their sensory perception.
Empathic or empirical worldview in Epicureanism, in fact, should identify people with the gods. Not as a Nietzschean superman, and only by birthright. That is, each of the gods of Greek mythology is the individuality of sufficient human character, likeness and human values. They are alive, unlike the God of the Jews. This error was later corrected edition Judaism – Christianity – God more human – with human likeness, actions, deeds, eliminating gaps and creating positive image of his goodness "ours guy."
Epicurus the gods at their best perception may be expressed through the perception of modern man comic book movie that already has the latest religion. Exact – they may have, they are tough and people are poorer and everyone can become like gods when carry themselves "left out" of fear and pain. That our negative emotion is like a "shell" in which God lives. And life for pleasure is the best way to destroy that shell.
Not in the full-hedonistic sense, but in the sense of the pleasure in perception as such. If you specify the end, the absence of suffering – have pleasure. Use ataraxia like tranquility and equanimity. Late Epicureanism in the Roman Empire had distorted the principle of total hedonism, that individual had to do all that in his opinion, bring pleasure. If Epicurus advocated finding pleasure in natural desires, the late hedonism was full of sexual perversion, gluttony, vanity, selfishness and other features that are condemned in modern society.
Not deviating from the topic back to Tetrapharmakos, consider his second thesis – "Don't worry about death." Epicurus saw death as a deliverance from suffering as a natural thing. Death is inevitable, so there is no sense of fear. I quote: "until we are, then there is no death, but when it is – then there is no us." Fear of death is useless in adopting many of the world philosophies, religious and non-religious nature.
The man really lost a lot of their time worrying about those things cannot prevent. Of course there are many different currents wing, seeking to avert death – necromancers, Transhumanism, Christians of new cults. And all this fuss, according to Epicurus, deprived man of pleasure and fulfilling life. No one urged Epicureans love death. They suggested apologize for slang, "score" on it. Use ataraxia like a cure.
The third thesis Tetrapharmakos – «good is easy to get». Of course, if you do not suffer, the life enjoyment gets automatically through ataraxia through exclusion from human fears and suffering. It follows the fourth point – «terrible is easy to endure» Certainly easy if you refuse to accept them. In my opinion, Epicureans renouncing evil in the world, corrects its own worldview using ataraxia thus distorted the very notion of happiness, but it's all relative and subjective.
That is their sensory perception of the world can be better described not empathic and apathetic. Of course, the world around us is guided by our perception. And here is palpable shift in dialectical plane. Descartes` "Cogito ergo sum" in Epicureanism looked like so "I think positively, so everything is good.
Life or death cannot interfere with me on my path to enlightenment, but as a concept of enlightenment they were missing. So, absolute happiness and enlightenment can be considered. And again we return to the question – what is happiness? What you call happiness, whether it is an absolute, a standard that is true in both the empirical and the theoretical perception? Happiness – a subjective logical conclusion a man who refused to human needs, focusing only on the basic needs of the body, such as eating, defecation, sleeping and sex, and all the rest is only a correction worldview.
Does this contradict the philosophy of self-preservation? Because if you are not afraid of death, and not run away from it. This humility is amazing. However, in the classical sense Epicurean – all right, if nothing to afraid. A lot of issues are following one by one. Of course, the good easily achieved if their needs ahead underestimated. And whether you need something extra person that invented man? One question more difficult than another.
If you use the same imagination and describe a classical philosopher from the gardens – how it will look like? As ordinary people, who do not care where to live, because it does not matter? All the same, what to eat, because he is not afraid to die from this food, he's not afraid of death. Doesn`t matter what to wear. Like typical tramp. Like most Greek philosophers.
Ataraxia as a tool to achieve happiness, distorts many human virtues, such as mercy. I think if people can`t empathize to the man it had something to be like a beast. But what kind of animal that is fears nothing? The first comes to mind usual sloth. He did not escape from a predator. He may be afraid, but decided that this makes no sense. It makes no sense to fear. The gods do not fear death. And people should not. And the gods must not be afraid. And do not be afraid. Can and should not live? However, with the perception of pleasure should bring the fact of existence.