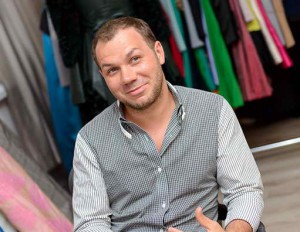 This article is dedicated to the once completely unknown young man, who appeared in the Ukrainian world of fashion and show business to great surprise of many people – Andre Tan.
I would like to start from noticing that the real name of the well-known all over Ukraine and the whole Europe designer is Andrew Tishchenko. This talented young man was born in a small urban town – Komsomolsk, Kharkiv region, October 26, 1982.
Since childhood, Andrew had a great aptitude for drawing, that is why he carefully draws sketches of dresses for his sister Marina`s dolls. The girl enjoyed playing with her brother and was very happy, when Andrew created new delightful appearances for her favorites – dolls. Andrew's mother also influenced his love to fashionable things. She shared her experience, discussed new trends in fashion world and just supported Andrew in all his undertakings.
At the age of 11 young Andrew enrolled on a sewing course. Hard to believe, but he was the only boy in a group.
Moreover, Andrew was diligent, painstaking and responsible, that is why almost all the girls were interested in such an unusual and funny guy like Andrew. Sometimes it happened when he helped girls with sewing and explained some of the them how to build this or that sort of textiles. Andrew was so interested in creating something incredible and unusual that within a short time he has collected over 60 notebooks with his own sketches and drawings that were spawned by his imagination.
After finishing the course, Andrew has clearly decided that it will be the occupation of his life. While pursuing this goal, he went to Kharkov in the faculty of technical textile modeling.
Finally, Andrew determined on his future profession. It took place when he was in college. It was a pleasure for Andrew to study there. He received only positive emotions and took delight in obtaining new information. All above mentioned has become a determining factor for choosing Kyiv University of Technology and Design as a future place to study in.
Andrew worked hard and combined university with the work on the New Channel in the role of stylist. Later he and opened his own design studio in Kiev. Over time, the talents of the young wizard were noticed, and Andre was invited to the song festival "Eurovision – 2005" to create a collection of clothes for the performance of Ruslana.
Finally, his persistence, determination, desire to win and the efforts were rewarded. Andrew began to take an active part in the projects of the new channel, such as a "fashion victim". He's popularity was growing and he became the main stylist of the project "Chance" on the channel Inter. These are well-known Ukrainian TV channels, which gave Andrew a chance to prove his career as a stylist and became the basis for self-improvement and self-development him as a designer.
What is more, Andre Tan went to improve his skills in leading countries such as Germany (practice and working in a factory «Hugo Boss») and London (St.Martins college of Art »). Already in 1999, Andre Tan made his debut on the cat-walk, showing the public his collection of clothes. The main and decisive factor in the career of Andre Tan was the show "Winter 2006-2007", where he introduced to the audience a trend in fashion – Smart Couture. This trend in fashion combines both intellectual sophistication and simplicity, and is designed for city ladies. Over the next 10 years, the designer has personally visited many fashion shows and parties, not only in our country but also abroad.
Andre Tan`s rewards:
• 2001 – spec. promote international competition of young designers "Fashion Seasons – Look into the Future."
• 2002 – the first brand shown by Andre Tan. His collection won in the competition "New Names".
• 2002 – spec. endowed by fashion guru Vasiliev in Paris at the International Contest for Young Designers.
• 2005 – 2008 – for four years of the recognition by «ELLE» readers, as the best designer of Ukraine.
• 2005 – the winner of the collection 10×10.
• 2006 – a collection of clothes from Andre Tan at Fashion Week Berlin has received a favorable review of German fashion critics.
• 2006 – the title of the best designer clothes Ukraine Statistics "Best Ukrainian Awards 2006".
• 2008 – "Designer of the Year" by the rating of "Favorite of Success – 2008".
• 2011 – Focus Magazine Andre Tan presented the second stage in the list of "20 most successful Ukrainian designer of clothing for women."
The list of regular customers of the designer is increasing year by year. Today it contains such outstanding Ukrainian stars and TV presenters as: Svetlana Loboda, Ruslana, Iryna Bilyk, Gaitan, Maria Efrosinina, ballerina Anastasia Volochkova. The future plans of Andre Tan – to dress not only Ukrainian, but also world-famous stars.
Favorite Andrew`s fabrics have always been and will be – silk, organza and taffeta, becausethey create volume and sophistication at the same time.
Concerning favorite accessories: they are the bags that he does himself. Andrew enjoys this process and get a lot of fun during their development.
Shades of green are often dominated in collections of the designer, as this color delights Andre and adds every collection a drop of freshness, youth and love.
In the future Andre Tan wants to get the opportunity to meet with such talented, brilliant and unsurpassed world-famous fashion designer Yves Saint Laurent, the biography and works of which he is interested in.
About immediate plans of designer : establishment of a line of clothing for men.
In the world of the latest fashion trends can be seen the fact that many are not only designers, but also the entire company focus on Ukrainian symbolism. Andre Tan was also inspired by such way of showing his love to Ukraine, that he established a number of accessories with Ukrainian motifs, namely clutches in a collection of poetic works of Taras Shevchenko "Kobzar", covers for documents with the same symbols, and so on.
October 26, 2012 the famous designer celebrated his 30 birthday. The same day, he celebrated not only his anniversary, but also made the most important step in the life of both men and women – marriage!
His choice was a famous Ukrainian business lady Alina Kharechko.
The future plans of young family are to have a child, and as claimed by the media, not only one. So, to sum up, I want to wish Andre Tan plenty of fresh and new ideas to create its unrivaled collection!