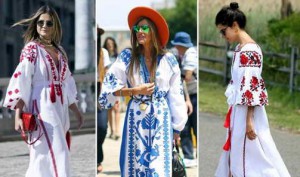 At first, I want to sort out, what is this "the fashion" and why everybody seek to be in fashion.
The fashion is no joke, it must be everywhere and for everyone, to show individuality of every person and accentuate merits.
The fashion is that how you want to look in certain season, or how you may see yourself in the world in this time. You must not to dress just clothes, dictated by fashion. You must to wear clothes as you want, but fashion will help you to match that image what you like. Nowadays there is no fashion, because now everything is fashionable and people aren't be afraid to demonstrate their individuality.
Not everyone follow on fashion, fancy tendencies of each year, but every person apply to fashion, when want to look esthetic, good, for to be liked by himself and people who surround us. Everyone from us wear clothes that he like, match it itself, so everyone is a couturier in any part. Helping by clothes person demonstrate himself and fashionable innovations help us in this way.
The fashion is harmonic proportion of your internal and external status: how you feel yourself in society, just so dress.
There are the people for who the notion of others is important – they dress like that the fashion and society dictate for them. However, there are the indifferent people who make that they want – they dress in their unique style and differ from multitude. Nevertheless, every person want to like cool and fancy, because no one won't be reputed as unsightly or not stylish and try to look fancy and trendy at all costs.
The fashion is an international concept. Any country has their fashion priorities and I want to sort out the difference between the Ukrainian, foreign and world fashion.
Ukrainian fashion sprang up approximately in 1997, "Ukrainian fashion weak" has been created in same time. "Ukrainian fashion weak" is single recognized weak, which connected with fashion and fashion shows. It has worthy ranked in world fashion industry.
For the first time it was conducted in November 1997. It was first professional fashion action in Ukraine, also it was unique and fully corresponded to world standards. "Ukrainian fashion weak" was developing quickly and every time more than 40 couturiers were represented their works on it. Later, one more new project called "New names" has been founded, where the young couturiers has been represented. Helping by these projects Ukraine actually enriched of new, young and talented couturiers, and "Ukrainian fashion weak" acquired the title "opener of new young talents".
Every year under the aegis of "Ukrainian fashion weak" many different events connected with fashion take place in Ukraine and of course are very important. Many young couturiers has their study courses abroad in the capitals of fashion such as Milan.
Every season and every year couturiers show to the world their works, which may be in fashion, because every year has own fancy history. After latest events that had place in Ukraine, couturiers picked up national and historical idea in their innovations, when they started to use Ukrainian national clothes. So Ukrainian embroidered clothes became very fancy and popular within Ukrainian people. These events reminded Ukrainians of their nature, woke up patriotism and devotion to one's country in each citizen. Couturiers put the idea of Ukrainian national clothes into life and updated it for present population.
World fashion. During the formation of world fashion in clothes appear different countries. At that moment, France is the most fashionable country, notably its capital – Paris. However, earlier there were Italy, Spain and a little later England. In general, the fashion grows with development of society, government and industry. In each country of the World there were own governor, who had the power of fashion and development of it.
Fashion in clothes is change of forms and images of clothes, which pass over short time. For the first time, this world used in VII-th century, when the French courtier's fashion became the standard for all European countries.
Fashion, in any part, dictate how the people may to put on. Therefore, it was indeed earlier. In Europe, people wear the clothes dictated by countries reputed as fashion capitals. At any time, people want to look nice. Probably, when the people was wearing the animals fells only to get warm – that has been in fashion, whose fell was beautiful and brilliant.
Fashion was springing up in the cities, where has been rich people and more developed society.
I think, that each country differ from other by own views to fancy, because each country has own mentality. World fashion developed earlier than Ukrainian did, because, generally fashion formed in the country that developed earlier than Ukraine and so all, what Ukrainian fashion-conscious people knew – are abroad things. Europe has dictating the fashion for the whole world – as teacher and followers.
Ukraine has studying to be fancy from Europe, developing on it and reached considerable results. That's why, if Ukraine has been oriented to abroad fashion earlier, so there are Ukrainian couturier's shops abroad now, there are famous Ukrainian designers, known abroad. There's no compare Ukrainian and World fashion, because Ukraine has studying this creation from Europe, and reached considerable results. It's natural, that European and Ukrainian things will be different, because each country has own views and history, which have effect on the fashion development.