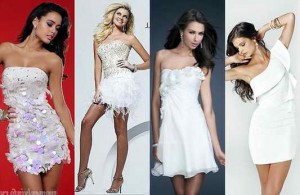 One of the most widespread kinds of clothes is, of course, a dress – one with a long hem that covers upper part of feet and body. Many years ago, we could see two types of dress: masculine and woman dresses, but during the change of tendencies of masculine and woman clothes, dress became a characteristic exactly for woman cloakroom. Dress has developed from cloaks, which had no forms, to clothes that we wear nowadays.
Dresses started to have some particular form in the 15th century. The first designer of dresses in Kyiv was Nicol Stakhovska. There is a large variety of dresses. The first variant of sewing machine was constructed in 1840. Bartolomeo Timon, a designer of that time, made a machine, which simplified people's life. It made it possible to enhance the design of clothes and costs of production began to fall, thus the price on creations became far smaller.
Basic changes began to take place starting with 20th century. Dress began to diminish, waist to be brightly selected, fabric covered the bodies of women tightly, doing them more attractive. During the World War II dresses were simplified incredibly as people in that time needed to change almost everything, nobody needed expensive things; almost nobody had money. Designers needed to take it into account as well as a fact that almost all day long women were wearing a form. People were more concerned about The War but not about clothes.
After WW II finished, a fashion industry began to recover as clothed and outlook became important for women again. Designers tried to do clothes bright in order to decorate the sad and grey streets of cities. In 70th the domination subculture were hippie and designers started making dresses with long skirts. Fortunately, today women can choose their own style of dressing and do not have to change the whole wardrobe after every new breathing of fashion.
I am sure that there should be dresses, which pass all senses of festive mood, in the cloakroom of every woman. Every new style of dresses usually starts from celebrities. Their designers always have lots of ideas. Unfortunately, fashion changes so fast that people do not have time and money to buy something new. Nowadays it is possible to think of any design for clothes, which can be ordered for a seamstress. Variety of colors of fabrics and of long duration experience, gives complete freedom to designers. So, for young girl it can be everything.
On the streets, you can see a woman that will look as on a magazine cover. In my opinion, dresses must be in cloakroom of every women.
Below I provide the description of modern dresses:
1. Dress with a jacket. It is a combination of dress and the jacket, such clothes can be dressed as to the business meeting and also for a walk (as for me, such dress looks very beautiful for a business supper). Jacket is made from the same material as dress (as a rule ordinary cutting out). Such arrangement was in a vogue from 30th for 50th of 19th century, but as a rule today, women put such dress on some measures.
2. Covering dress. Such clothes underline all line of waist, it looks very beautiful, usually it goes without sleeves. It was created in 1918, and in 20th all girls put it on for evening. In the year 1990 this type of clothes became more workaday. Princess Diana was wearing this type of dress. Various accessories and jackets look very good with this dress.
3. Dress-combination. These clothes do not cling fully, only partly, on very thin breast-bands, its edge reaches one's knee. Dress-combination can broaden from below, or be with a shuttlecock. On dances in 30th this dress was very popular with it you could picked up the great number of decorations.
4. Dress -shirt. This dress reminds the man's shirt, and from below it becomes a skirt. Initially this type of dress was invented by Koko Chanel in 1916 year and up to 60th it was one of most-selling among girls. In our days every glamour girl wears it in summertime, as it is a very simple and beautiful variant of summer clothes.
5. Dress from Laura Ashley. Such dress made of cotton with beautiful ornament of flowers arrives at the peak of popularity and has many additional elements. This easy clothes entered a fashion market in 60th and cheered up people who draw the pictures of nature and life in a village. In 70th one of the most-selling shops of Laura Ashley sold more than 4000 clothes in a weekend.
6. Dress-overcoat was introduced in 40th and looks somehow middling, between overcoat and dress. This dress usually has long sleeves and collar with buttons. This dress has a belt that underlines a figure. Material of this dress is very warm, you can not freeze, but not as warm as of an ordinary overcoat.
7. Dress polo is entitled after famous men's shirt. This dress does not crumple and has pockets, fastened to the middle of the chest and has a stable collar. This dress clearly looks in Casual style, you can wear it every day,or in some important meeting because it is really comfortable and refined.